Case Study: Reading College SharePoint 2010 Staff Portal for communication and management collaboration
Background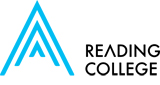 The transition from being part of a University to being a standalone Further Education college provided a significant challenge for Reading college staff, and the College Management team felt it was essential to maintain good communications with staff throughout. They envisaged a Staff Portal being an information hub for everyone at this critical time and commissioned Parabola to design and implement a suitable SharePoint application.
A successful Oxford and Cherwell Valley College SharePoint 2007 solution was a key factor in choosing Parabola at the new college, as was the shared vision that SharePoint could provide wider benefits long term e.g. with document management and collaboration.
Requirement
A Portal by start of term to replace the TVU intranet and to enable quick and easy communication with staff
A Staff Directory to enable contact details and profiles of all staff to be easily found online by other staff
A working area for senior management to share and collaborate
The ability to filter information by group or department, reducing information overload
The ability to efficiently grow and develop the Portal to meet future needs, such as collaboration amongst the senior management team.
The Challenge
Parabola's team had less than two months to plan, design and create a Portal, to be ready for the arrival of staff on 1st August, including configuration of servers to run the system. The college infrastructure was still being put in place; the college did not have a separate network at the outset and was having to continue to use TVU network services during the transition period, so the technical environment evolved day by day.
Similarly the server farm design had to utilise existing hardware initially to meet the timescales, but also include options for adding new server capacity, as use of SharePoint grew.
The Solution
Parabola proposed that a SharePoint Portal would be the ideal way of managing the short term transition requirements, as well as being an extremely flexible infrastructure capable of offering many other possible future applications at low cost.
SharePoint 2010 was recommended because it offered a broad range of capabilities in one system which could be adapted by the college as it developed. Microsoft's Campus Agreement enabled an enterprise level tool such as SharePoint to be available at a reasonable cost to the college.
Parabola also recommended a suitable Server Farm to handle the flow of data through the SharePoint Portal. The farm was designed to provide sufficient resilience and scalability to meet the college's needs for the next 5 years, as well as to make use of existing hardware for the short term needs of the college launch.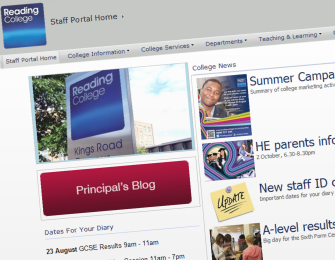 SharePoint 2010 provided an ideal platform for developing the solution rapidly. Easy-to-use List and Announcement web parts allowed news to be uploaded to the Portal home page without delay, whilst a Blog page gave the new interim Principal a voice.
Permissions within SharePoint were used to allocate access to a dedicated Manager's Site where, on a Calendar, meetings were pencilled in and meetings pages created. The new Profile Synchronisation features of SharePoint 2010 enabled a powerful and self-consistent Staff Directory application to be delivered rapidly using Active Directory as the source of staff information.
Permissions control enables administrators to delegate ownership of site content within the portal. Active Directory groups and SharePoint Profile Sync were adopted as the tools to manage the permissions and ensure the administration overhead is reasonable.
Timescale and Approach
April 2010: Initial discussions. Envisioning analysis conducted to analyse scope
June 2010: Specification and costs agreed and project approved
Early July 2010: Capacity Planning survey completed to gauge future SharePoint use
Late July 2010: Initial Portal created for news and announcements to be posted
Early August 2010: Full Staff Portal, including Staff Directory and Management site, created
Mid-August 2010: New Server Farm design, delivered
Late August 2010: Initial training of marketing staff on managing content
Early September 2010: System live with all staff using the Portal
Extremely close liaison, including regular review meetings and use of 'out of the box' SharePoint tools, helped ensure time and money were used as efficiently as possible during development.
Results
Once the requirements and the costs were agreed, the project was delivered in 8 weeks
Staff have access to SharePoint on-campus or remotely via the internet
No new hardware was required for the initial launch and the college is now planning to migrate to a larger server farm.
Chris Meunier (Director of Curriculum Development at Reading College) said of the partnership:
"Parabola were proactive and courteous partners who rose to the difficult challenge we set them, and were flexible enough to ensure we could deliver our short term goals whilst opening our eyes to the wider possibilities of SharePoint long term."
Technology Used
The following technology was used in the implementation of this project:
SharePoint 2010 Enterprise Edition
SharePoint Profile Sync
SQL Server 2008
Windows 2008 R2
VMWare