A Parabola Health Check can identify the causes of current problems and where your existing implementation is not aligned with your business needs. The results will enable you to decide the best way forward for the short and long-term.
Approach
We follow a series of steps designed to thoroughly analyse your current business problems/pains and the technical environment. Each step will analyse a key consideration for your system implementation such as performance or security. Taken in the light of the problems you are experiencing the consultant will be able to identify the causes and suggest a remedy or an alternative way forward.

Once the Health Check is complete we document the results but also take the time to discuss and explain our findings.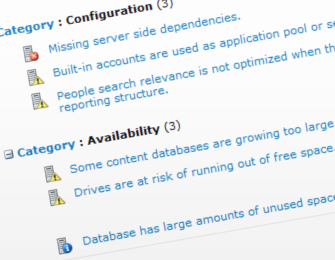 Benefits
A Health Check helps detect weaknesses in your IT infrastructure. The Health Check diagnoses the causes of the problems, not just the symptoms. Our aim is to help you improve your IT infrastructure planning using our technical expertise.
Parabola's Health Check will consider your expected needs over the next 5 years. The Health Check requires minimal intrusion to your IT systems and can be conducted remotely – we only make recommendations at this stage and do not make any improvements unless you ask us to.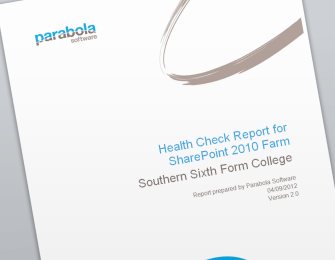 The Report
The resulting report will include an overview of your current deployment, analysis of the issues discovered and, based on these, a set of recommendations to improve your deployment.
In addition, we will suggest practical steps to ensure that your environment continues to be configured and managed properly to meet your business needs in future.
Parabola provides Health Checks for the following Microsoft Server products:
SharePoint 2007, 2010, 2013 – more info
SQL Server 2000 - 2012
Forefront Threat Management Gateway
Forefront Identity Manager