A2Dominion Launch New Intranet with Collaboration Features.
Background
The A2Dominion Group is one of the country's leading providers of high quality housing. A2Dominion now provides over 34,000 homes across London and Southern England with thousands in development.
A2Dominion employs 900 members of staff and is headquartered in London with 67 offices across London and South England.

Challenges

As part of an on-going SharePoint programme, which has included automating business processes for all staff. Parabola continued to work with A2Dominion (A2D) on a new SharePoint intranet to replace the widely used intranet running on an out-dated Content Management System.
A2D wanted the new intranet to provide better communications for project work, document management and ensure consistency in practise. With over 900 staff A2D's intranet is fundamental to communication within the organisation. The Intranet provided staff with the means to keep informed, find contacts and communicate with each other. As a result of this dependency it was imperative that the transition to the new SharePoint solution happened smoothly for staff at all levels.
A further business challenge for A2D was the desire to delegate control of the content on the intranet to users across the organisation whilst maintaining its standard and quality.

Solution
The company intranet was migrated and redesigned in SharePoint in May 2012. All content was transferred allowing users to engage with their content and SharePoint's new features straight away.
To increase user participation and to keep staff fully informed, Parabola helped A2D employ the SharePoint social computing features. Now staff have blogs, a blog feed allows everyone to stay in the loop and they can use alerts to find out if their favourite content has changed. SharePoint makes it easier to write news articles with a consistent look, resulting in a relevant, easy to use and aesthetically pleasing news section with contributors from across the business.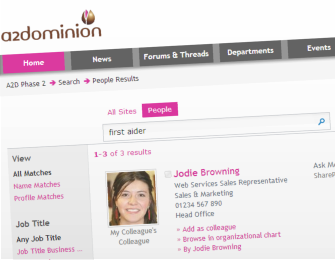 The introduction of SharePoint search as well as new information architecture practises give staff the capability to drill down search results. For example, a document search can be filtered by author or department making search more efficient for A2D. Finding a subject expert is made easier with SharePoint 2010's People Search. People Search now includes detailed profiles of staff, organisation charts and the ability to search by expertise such as 'Prince 2 Qualified' or 'First Aider' ensuring A2D staff can find the right person across their 67 different offices.

Parabola fulfilled A2D's needs using a two-pronged approach. Firstly, harnessing the value of SharePoint's out-of-the-box features wherever possible and secondly building custom web parts and tailoring the styling to fit A2D's needs. By engaging with Parabola, A2D could take advantage of the company's extensive experience and expertise developing SharePoint to get custom web parts built to spec and to their deadlines.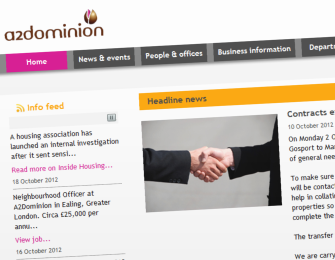 SharePoint comes with vast out-of –the-box capabilities, such as document management using workflows which allow users to collaborate on documents wherever they are. Staff can now collaborate on documents with colleagues in other offices for review or editing which results in a single version on the intranet and avoids "email Ping-Pong". These workflows also allow the marketing team to delegate control of intranet content because team members can send new content to them for approval.
In addition to the above, a number of special features were built specifically for A2D. Customising the styling of SharePoint with new menus, master pages and templates in keeping with corporate branding provides an informative and appealing user experience their staff are familiar with.
To help staff harness social media, a custom web part was configured for the intranet front page which pulls information from RSS and twitter feeds. This provides a quick one-stop-shop for the latest in the social housing world. Wikis and profile pages in SharePoint allow staff to interact and share knowledge in the same way they do outside the work place.

Summary
The new intranet went live in May 2012 following a successful implementation. Feedback from across the organisation has been positive, with staff loving the new look and feel.
"This is much easier to navigate around. I particularly like the events section on the home page and the quick links at the bottom to help me access the information I need. Well done."
Applications System Manager
"Looks great and a marked improvement from previous version."
Applications Team Manager

More Information on SharePoint Intranets