SharePoint 2013 includes a whole new approach for developing and deploying functionality in your SharePoint site – the SharePoint App. It's not an App in the iPhone/Android sense, it's a web application that works with SharePoint.
You can use pre-built SharePoint Apps from the SharePoint App store or write your own custom SharePoint Apps with help from Parabola.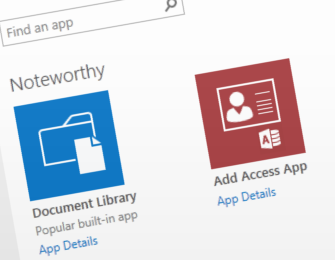 What you can do with a SharePoint 2013 App
A SharePoint App can be used to provide any business application. In addition the App can make use of standard SharePoint features such as lists and workflows. A SharePoint App operates via SharePoint therefore access is controlled via SharePoint authentication (login).
Perhaps the most exciting capability of a SharePoint App is the ability to run on mobile devices. This opens up the possibilities of using SharePoint Apps for remote workers to collect data and monitor activity whilst storing the results in SharePoint. The example in the image below allows caretakers to record checks and faults on a mobile phone whilst visiting the property.
SharePoint Online – running Apps in the cloud
A major advantage of custom SharePoint Apps is their ability to run in the cloud. Even SharePoint Online (part of Office 365 and running on shared SharePoint Farms) can make use of your custom SharePoint Apps. Custom Apps in the cloud are still in your control and don't need to be published via the App store.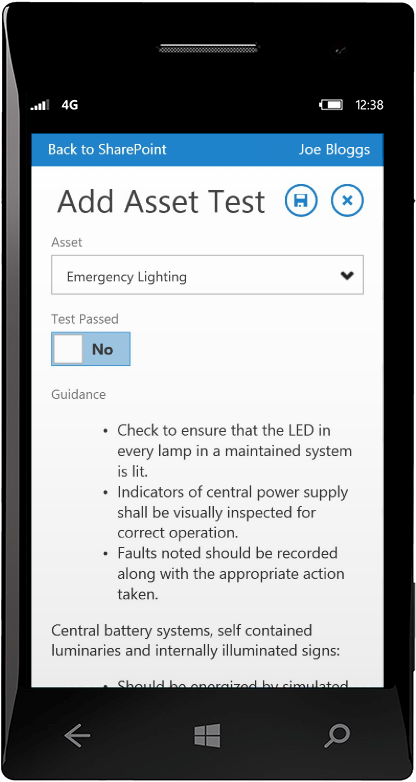 SharePoint Apps are different to 2010 Web Parts
To the end user or the content manager there is no difference between a 2013 App and a 2010 web part except that 2013 Apps are far more capable and offer more functionality. Behind the scenes SharePoint 2013 Apps and 2010 Web Parts are completely different.
SharePoint 2013 Apps are hosted differently to web parts. In many ways SharePoint Apps are more like classical web applications running on a web server.
Why choose Parabola to develop a custom SharePoint App
As innovative Microsoft developers with gold partner competencies in SharePoint (Portals and Collaboration) Parabola are in a fairly unique position. As is often the case we were quite early to test and make use of the new technologies - our first SharePoint App was finished in December 2013.
If you want to get moving quickly we can deploy a SharePoint Apps in the cloud or On-Premise and we have the in-house capabilities and experience to design and build the right SharePoint App for you.
Contact us now to learn more and understand how SharePoint Apps can help your business.