Case Study: Esher College augments MR 2010 with an integrated ILP and UCAS management system

Introduction
Esher College is a leading sixth-form college serving North West Surrey. The College has some 1500 students on its role and was awarded Beacon status by the Department for Education in 2006.
Context
Parabola has been working with Esher College since 2005 as its preferred ICT partner.
Parabola delivered one of the UK's first FE SharePoint Portals for Esher in 2006 and has worked in partnership with the College to develop the student management and collaboration system MR 2010; a flexible mark book, progress recording and ILP application integrated with SharePoint. The application, which is now installed in three UK FE colleges, is used by Esher to enable students to manage self-assessments and to see their progress against their own targets and those of their tutors.
The Challenge
The college has maintained student information on UCAS applications, gap year and employment prospects on paper and spreadsheets for many years. Having this information enables staff to help students with their UCAS applications and to focus on helping on helping students make successful choices for their university or employment plans.
Parabola's challenge was to provide an easy-to-use and intuitive system integrated with the existing systems. The additional functionality had to be able to be accessed by all staff in the College, and be easier to use than a paper-based system. It was also important that the students could view their records and be able to collaborate with staff whilst setting action points.
The Solution
The existing MR 2010 application, developed by Esher in partnership with Parabola, was chosen as the platform for delivering the new ILP functionality because: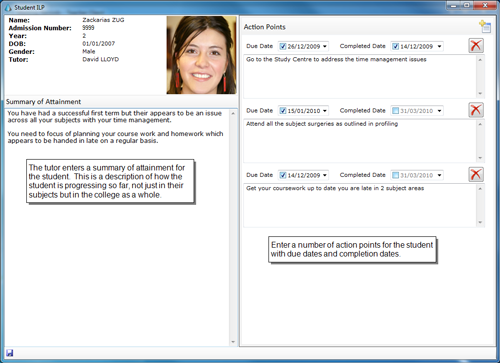 Staff find it easy to use and it can be accessed from home
It is already integrated with Esher's existing student records system and SharePoint
The College needed to be able to view student progress information alongside UCAS and ILP data
The solution includes automated emailing that alerts students and (where relevant) teachers when actions have not been completed by their due date. For example, the system will flag up omissions, such as the ILP not being updated and will alert tutors if futures information on UCAS, employment or gap year options are not fully recorded.
The ILP and UCAS information is automatically published on the College SharePoint Intranet which students and teachers can access securely from on-campus or remotely from home.
Parabola's Approach
Parabola has worked in close partnership with Esher College for several years and has developed a detailed understanding of its needs – from educational, administrative and technology perspectives.
Initially, the ICT team at Esher wrote a short specification of requirements and agreed this with senior staff at the college. This was then used to brief Parabola. After agreeing a cost for the project Parabola produced a detailed functional specification for the system including mock-ups of new screen designs.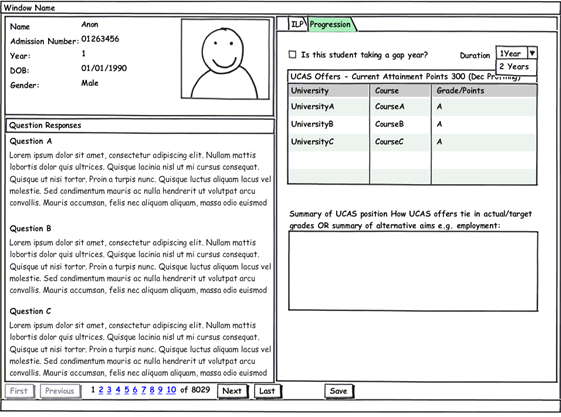 Parabola's functional specification provided Esher with a design and full details of exactly what data would be input, stored and displayed. It also included a set of business rules that govern how business logic of the system works.The enhancement to MR 2010 was delivered within eight weeks.
As Parabola MD Richard Gray explained:
"We have established a way of working with Esher that means that we are able to complete projects effectively and efficiently. Our awareness of their ICT strategy, including SharePoint, and our experience with other UK FE colleges mean that we understand academic and administrative requirements and can turn these into a solution quickly and effectively"
Results
Once the requirements and the costs were agreed, the project was delivered in 8 weeks
The new process has improved management of ILPs for teachers and students
There is now a single system for all ILP, UCAS offers, employment and gap year opportunities within the College
Students became more engaged in their progress by setting their own targets.
Staff and students have access to ILP information on-campus or remotely via the internet
No new hardware was required and SharePoint continues to be the portal for all college systems
David Lloyd, Director of ILT at Esher College commented:
"This extension to MR 2010 is another example of the successful partnership approach between Parabola and Esher College. It gives us a real edge in being able to easily capture, maintain and use the wide range of information needed to produce and manage students' ILPs and the more challenging area of capturing future information about University, work and gap year opportunities for every student"
Technology Used
SQL Server 2008
Microsoft .Net 3.5
ClickOnce deployment
SharePoint 2007