A 3D representation of the hand and club path during a golf swing.
26 June 2013
Parabola continues their software development work on the golf swing analysis product with Mark Bull Golf. The software continues to develop in functionality with Mark Bull adding new features as the software becomes more and more useful to him and his clients. The Agile methodology used on this project ensures that the software can continue to grow as the possibilities become apparent.
The latest version of the Swing Analysis system includes the hand and club path in a 3D image. The hand and club head data for the analysis is captured by the Polhemus Motion Tracking hardware.
The user can rotate the 3D image to compare the hand and club head path with the swing plane. Play the video below to the 3D hand and club path tool in action: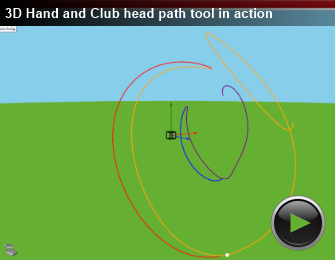 If you'd like to find out more about how software development can help your business, give us a call on 0208 339 4380