SharePoint 2013 ticks all the boxes for Motability's new intranet.
13 March 2014
Motability is a national charity, established over 36 years ago and employing just over 100 staff at their offices in Harlow, Essex.
Motability directs and oversees the Motability Scheme which enables disabled people to use their government-funded mobility allowances to lease a car, powered wheelchair or scooter.
Motability originally launched their Intranet, 'Pulse' in 2007. A staff survey in 2012 provided positive feedback on the site generally but that it was in need of a facelift. The SharePoint 2007 platform was limited in functionality, particularly regarding search tools and this was becoming frustrating for users.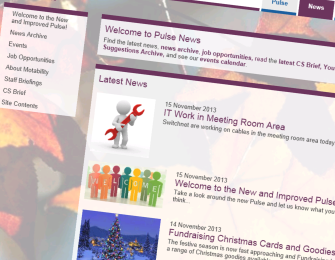 In late 2012, Motability sent out a tender to refresh the 'Pulse' look and feel and to improve overall functionality. Parabola won the tender and persuaded Motability to upgrade to SharePoint 2013 which would tick all their required boxes and help future proof Pulse.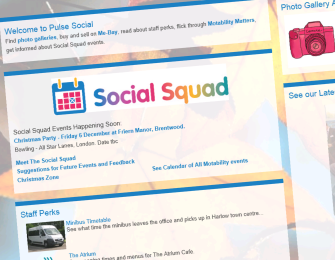 A fresh new look to complement SharePoint 2013's modern styling was designed especially for Motability, taking inspiration from the Microsoft Metro design used in Windows 8.
The whole project was managed using the PRINCE-2 methodology, which both teams were already trained in prior to the project. Using PRINCE-2 allowed any potential risks to be carefully managed and kept the project on the correct path for everyone involved. Over the next few months, Parabola worked with Motability's Marketing and IT teams to deliver the new Pulse in November 2013. A SharePoint Online collaboration site was used to share the project schedule and risk registers.
As the upgrade from 2007 to 2013 was a big step up, there were a lot of new features that the Communications team needed to learn how to use. Onsite training to end-users in the Marketing team at Motability was provided as the project neared completion.

With a new, fresh look and improved functionality, Staff feedback to the new Pulse has been extremely positive.
Parabola managed to deliver the project within agreed timescales and importantly within budget.