OCVC Execute a Smooth Transition to SharePoint 2010 Over the Diamond Jubilee Weekend
27 June 2012
Oxford & Cherwell Valley College is the largest provider of further education in Oxfordshire and has recently undergone a merger with Reading College. The college staff intranet (known locally as "the Staff portal") was designed by Parabola back in 2007. The Staff Portal has now been upgraded to SharePoint 2010 after completion of a carefully planned process over the Diamond Jubilee bank holiday.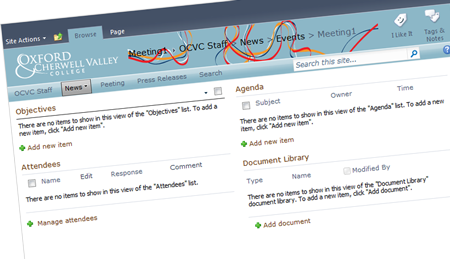 Staff made extensive use of the 2007 Staff Portal for document management, getting the latest internal news and also as a replacement for paper forms for processes such as booking a room or parking space to claiming expenses. Having attended a Microsoft event about SharePoint 2010; the OCVC team were impressed with the advances in integration and forms functionality with InfoPath 2010, and decided that there was a strong business case to upgrade.
Having worked with Parabola before, the College were confident they could deliver the upgrade to SharePoint 2010 but wanted to minimise any disruption. After consultation with the Senior Management Team it was agreed that the upgrade should take place over the Diamond Jubilee bank holiday weekend leaving plenty of time to resolve any unforeseen issues.
The approach mitigated many potential risks and ensured Parabola was ready to resolve any new problems that arose. A test upgrade was performed a week in advance, which highlighted the majority of the issues with customisation and provided useful data on the time required for each step in the upgrade. During the upgrade, staff were restricted from adding content to the SharePoint 2007 Portal which was switched to a read-only mode.
The advance planning and testing of the upgrade paid off and Parabola were able to migrate all the Portal content and fix the issues caused by the upgrade in less than 3 days.
As a result of the upgrade, the College Staff have commented positively about the new visual style that comes with SharePoint 2010, as well as the new functionality available.
Tony Tarrant, VLE/SharePoint Co-ordinator, OCVC commented; ""I personally am very satisfied, there were only minor issues that your team have resolved/are resolving promptly. Although we are on half-term those members of staff I have spoken to are pleased with the look and feel and functionality of the new site. All in all a job well done."