Managing IT Support Requests via SharePoint
03 December 2013
PRP is a UK based architects practise who operate in London, Moscow and Shanghai. They are one of the world's largest practises and have a wide range of specialisms including residential, hotel and healthcare. PRP have been working with Parabola for three years to improve their SharePoint 2010 intranet and increase the benefits they receive from using SharePoint.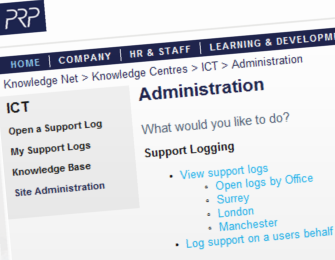 With Parabola's help PRP have recently introduced a logging system in SharePoint to track and prioritise IT support requests. The solution is based on out-of-the-box SharePoint features such as forms and workflows.

Parabola's own support logging system is built in SharePoint 2010 and is used to track support logs for all clients. Using the expertise of building this Parabola set about creating a similar system for PRP fitting their requirements.
The solution was built in SharePoint 2010 and will be available to PRP's 290 staff across 8 different offices across the globe.

Parabola have also built an IT Knowledge Base for PRP, where IT staff can create 'how-tos' so that users can solve common and easy to solve problems themselves. There is also an admin page for the support team where they can view support logs per office, assigning the relevant member of staff and judging the workload of each office.

The process is simple with just 5 fields to complete and now all UK staff have access to log support requests in SharePoint. The system will be rolled out to international offices in the future.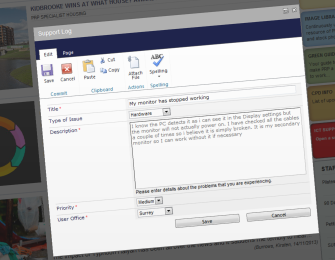 The Benefits
• PRP can track all support logs in one place
• IT staff can check the history of support requests and look up previous fixes to a reoccurring problem
• PRP Staff can track the current status of their support request online, without having to call IT support for an update
• IT staff can easily see their queue of outstanding support and prioritise requests
• Resources can be allocated easily using the workload per office view
• IT staff can now collaborate on support issues across the offices via a discussion board
• Senior Managers can quickly see outstanding and resolved support requests

If you would like to get more out of SharePoint and automate your business processes give Parabola a call today.