Three very different SharePoint 2013 migration projects landed
29 October 2014
The Parabola SharePoint team has been busy over the summer and completed 3 different SharePoint 2013 projects. All 3 involved working with the client on a migration from an existing portal/intranet to SharePoint 2013. In each case the start point and therefore the resulting solution was different.
Project 1 – NESCOT migration from 2007
Challenge:
NESCOT had a large Staff Portal in SharePoint 2007 used for document management and online forms. The 2007 solution ws originally delivered by Parabola and was widely used. The migration required a new IA structure to be added with miminal downtime.
Solution:
A new SharePoint 2013 farm was designed and implemented with scope for continued growth and extension. The metadata required for the new IA was added during the migration of content using ShareGate.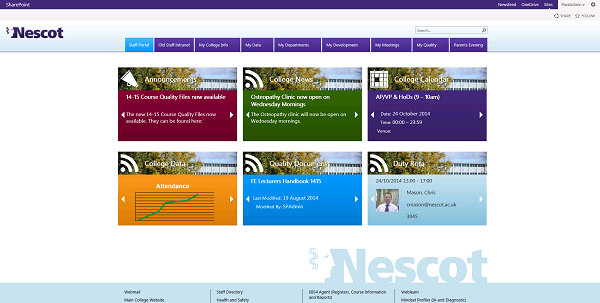 Benefits:
The new design includes a Responsive home page so that the portal can be accessed by staff on their tablets and mobiles. The migration process was completed with minimal impact on the NESCOT staff at the same time as a clean-up and restructure of the content.
---
Project 2 – New Responsive Bracknell and Wokingham College portals
Challenge:
A small staff and student portal in SharePoint 2003 had been used for document management for many years. The need was for a portal that both staff and students could use to access curriculum materials and collaborate on assignments as well as a separate portal for college admin and management.
Solution:
A new SharePoint 2013 farm was designed and implemented with scope for future growth and extension. Two new portals (one for staff and one for staff/students) were implemented including an integration of staff/student portal with QL Agresso to create SharePoint sites based on current course information.
Benefits:
The major benefits of the staff/student relate to the ability for staff and students to work together effectively as well as the ability to communicate across the whole college with ease. The staff portal provides efficiency savings for the college administration through the more effective use of Document Management.
---
Project 3 – Custom solution for large UK Housing Association
Challenge:
Large staff intranet using the obsolete Umbraco 3.0 CMS. The brief was to deliver a replacement solution in SharePoint 2013 to meet the same needs whilst enabling the adoption of other SharePoint features in the future.
Solution:
Custom software solution to automatically migrate content from Umbraco 3.0 into SharePoint 2013. Custom workflow solutions to provide room booking and pool car booking systems via SharePoint.
Benefits:
The new visual design with an interface which works well on any device including tablet and mobiles. Existing Umbraco content was migrated to a new Information Architecture. As a result so the intranet benefits from a much improved site structure and search facility.
---